The Art of Leadership Conference in Vancouver on October 26, 2017
The Art of Leadership returned to Vancouver on October 26 and VIU staff and alumni had an opportunity to participate in this exceptional day of learning.
The Art of Leadership brings together the most respected names in thought leadership in a place of inspirational interaction. Surrounded by a network of like-minded individuals, this conference is built around the stories, ideas, discoveries, and collaborative moments that drive achievement. Speakers included:
Vice President Joe Biden - 47th Vice President of the United States
Amanda Lang - Anchor, Bloomberg TV Canada and Bestselling Author of The Beauty of Discomfort
Welby Altidor - Executive Creative Director formerly with Cirque du Soleil and Author
Dr. Tasha Eurich - New York Times Best Selling Author, Organizational Psychologist and Researcher
Vince Molinaro - New York Times Bestselling Author and Leadership Expert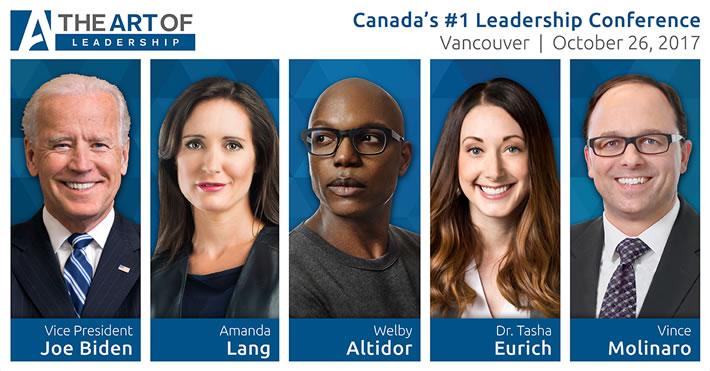 New Affinity Partner: TD Insurance Meloche Monnex
Your benefits also include home, tenant, and car insurance!
Thanks to a new agreement with TD Insurance Meloche Monnex, VIU alumni get access to preferred insurance rates on home, tenant, and car insurance!
TD Insurance is the leading direct response insurance group in Canada†, offering quality insurance products for over 65 years. From getting a quote to filing a claim, their knowledgeable advisors will help you find options that are right for you.
Plus, the TD Insurance Meloche Monnex program helps supports alumni and student activities. A win-win for you and your school.
More information about how you can save big
†Ranks based on data available from OSFI, Insurers, Insurance Bureau of Canada, and Provincial Regulators, as at December 31, 2015.
New Benefit Partner: Clearly
Your VIU Alumni Association is pleased to announce Clearly as a new alumni benefit partner. Clearly offers VIU alumni, students, and staff 10% discount on contact lenses and 25% discount on glasses when ordered online with promo code STUDENTLENS10 for lenses and PAIRUP25 for glasses. Free shipping is available for Canada Post delivery option only. Please refer to Clearly for more information.
2017 Alumni Happy Hours
VIU's Alumni Association invites you to join us for a Happy Hour in your area. Enjoy a local brew while re-connecting with fellow alum. Please RSVP on the Alumni Facebook Event pages.
Here is our upcoming Happy Hours for Spring 2017:
May 27, 2017 - Lunch and Such, Coastal Cookery, POWELL RIVER, Noon
Latest Issue of the VIU Magazine Now Available
We are excited to share the latest issue of the VIU Magazine! The magazine focuses on alumni news and updates, profiles, and the very popular "Class Notes" section along with featured stories and student and faculty news highlighting how VIU is engaging with our communities.
You can view the current issue and back issues of the online VIU Magazine.
This issue of the magazine spotlights VIU's "Reconciliation Road" series that is engaging Canadians in the challenging process of reconciliation along with stories on the vibrant process of active aging, the 25th anniversary of VIU's Bachelor of Arts program, and a VIU Professor uncovering the mystery of "Rock Snot."
2016 GivingTuesday - Thank You!
Vancouver Island University's GivingTuesday campaign was an enormous success and we are truly grateful for everyone who participated to make it possible.
In case you missed it, VIU's Advancement and Alumni Relations Office surpassed its original GivingTuesday goal of $150,000 raised in support of students.
The team raised $157,112 from 220 gifts, a remarkable achievement that displays the immense strength and generosity of the VIU Community.
Now in its fifth year, GivingTuesday is a global day of giving fueled by the power of social media and collaboration. Observed on the Tuesday following the American Thanksgiving and the widely recognized shopping events Black Friday and Cyber Monday, GivingTuesday kicks off the charitable season, when many focus on their holiday and end-of-year giving.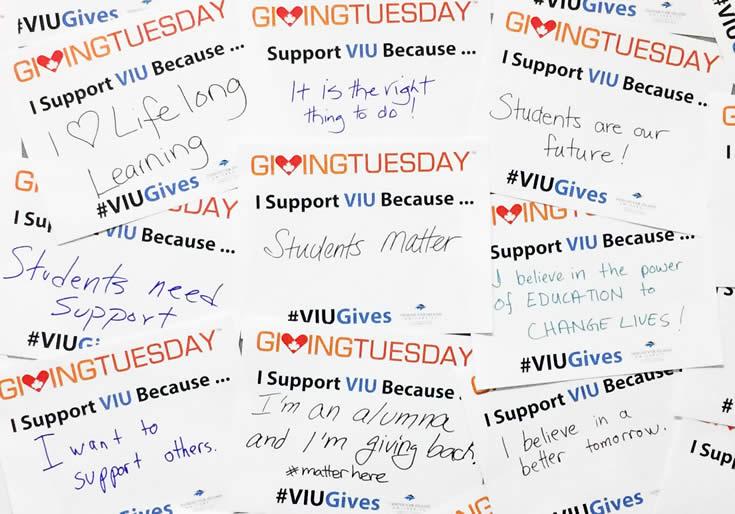 Your VIUpoint Alumni eNewsletter is Now Available Online
Check out the latest news from your VIU Alumni Association and the VIU campus in the VIUpoint Alumni eNewsletter. If you have signed up to receive the eNewsletter, it should now be in your inbox. Otherwise it is available online at VIUpoint eNewsletter.
ENCORE: Help Renew VIU's Malaspina Theatre
Thank you to everyone who supported the Encore campaign to renew VIU's Malaspina Theatre. The Malaspina Theatre celebrated its 40th anniversary this fall and was in need of serious renovations. The Encore campaign was launched in the Spring of 2016 and had a tremendous response from individuals and businesses in the community that helped raise over $90,000!
Through the Encore campaign, we were able to replace the 40 year old seats in VIU's Malaspina Theatre and do much needed renovations to the lobby. Please come and visit the newly renovated space to see the dramatic impact the Encore campaign has had on the Malaspina Theatre!
There are still performer seats available for donation. Further donations to the Encore campaign will go to other upgrades to VIU's Malaspina Theatre.
Leave a legacy by contributing to the renewal of VIU's Malaspina Theatre. It is simple and easy to make a single donation online. If you have any questions, please call the Advancement & Alumni Relations Office at 250-740-6215 or email alumni@viu.ca. For further information, please visit ENCORE.
Katelin Albert Receives 2016 Distinguished Alumni Early Achievement Award
Join us in congratulating Katelin Albert (Bachelor of Arts '08) on receiving the 2016 Distinguished Alumni Early Achievement Award on Thursday, January 28, 2016 at the convocation ceremony. Katelin completed a double Major in Psychology and Sociology with Distinction at VIU in 2008, then a Master's degree in Sociology at the University of Victoria. She is currently a fifth year PhD candidate in Canada's top-ranked Department of Sociology at the University of Toronto. Read the VIU News Article for more on Katelin's achievements. View Katelin's acceptance speech.
VIU Board of Governors New Appointee - Terence Fitzgerald
We are very honoured and pleased to announce that alumnus Terence Fitzgerald (Applied Arts - Graphics '91; Fine Arts - Visual Art '92) has just been confirmed as the newest member of VIU's Board of Governors. Terence is also an active alum who sits on the VIU Alumni Association Board. Congratulations Terence!!!
You can also see Terence featured in the Journey Fall 2009 issue
Are you Interested in Giving Back to your Alma Mater? Become an Alumni Ambassador
The Alumni Ambassador program engages graduates around the world, providing opportunities for you to participate with VIU, your fellow alumni, and your community. We value the dedication of all of our volunteers who organize networking events, professional development opportunities, and other activities for alumni. Alumni Ambassadors provide an invaluable service in strengthening our communication and connection between the university, local communities, and prospective students. Find out more about the Alumni Ambassador program. There are many ways to volunteer. Please contact the Advancement & Alumni Relations Office at alumni@viu.ca or call 250-740-6215.
Updated September 6, 2017